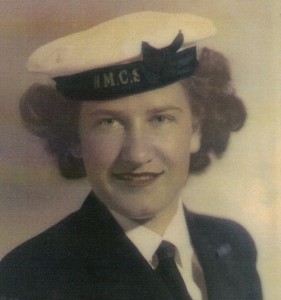 August 13, 1926 – May 13, 2015
At the age of 88
Memorial Service 11:00 am Saturday, May 30, 2015 at Fischer's Funeral Services, 4060 – 1 Ave SW, Salmon Arm, BC.
Jean passed away on May 13, 2015 at Noric House in Vernon, BC with family by her side.
Jean was born on August 13, 1926 near Green Water Lake, SK. She left the farm to join the Navy during WW II as a WREN. She was stationed at Halifax until the end of the war.
After the war she moved to Vancouver where she worked and trained in the hospital. That is when she met and married Roy.
They raised their children and lived in Revelstoke, BC for many years. She is survived by her children and grandchildren: Lyle – Nicole, Ashley; Doug (Deb) – Leon (Jennifer) – Jessica and Christina; Myrta (Jordan) – David as well as Myra (Gary) – Amy (Kobe) and Cory predeceased.
Jean was an involved member of the Legion with a lifetime membership. She also attended WREN and naval reunions that took her too many places around the world keeping her in touch with her lifetime WREN friends.
After retirement they moved to Sicamous where they built a house on Mara Lake. Later moving closer to family in Salmon Arm. Jean became involved with a small evangelical church and came to know her Saviour and was baptized in her late 70's.
After her husbands death in 2008 family moved her again to Vernon to be better cared for as her health was declining. Many thanks to Noric House, for their commitment to her care.
We will celebrate Jean's life in Salmon Arm B.C. at Fischer's Funeral Services on Saturday, May 30 at 11 a.m. with a luncheon to follow. The family asks in lieu of flowers please donate to either the Cancer Society or the Diabetic Foundation, as these were two needs that were close to her heart.