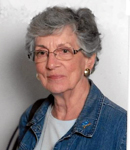 September 27, 1927 – December 30, 2015
at the age of 88 years
It is with deep sadness that we announce that Anne Henriksen died on December 30, 2015. Anne was born on September 27, 1927 in Ashland, Wisconsin. She became a Canadian citizen in 1973. Anne was the oldest of four children born to Effie and James Dickson. Anne graduated as a Registered Nurse from the Royal Alexandra Hospital in her early twenties. She enjoyed a successful nursing career and retired as Director of Nursing at the Dawson Creek Hospital in 1989.
Anne and Gunnar Henriksen were married in 1953 and raised three children together. Anne was predeceased by her parents and three brothers as well as by Gunnar who passed on in 1987.
In the early 1990s Anne moved from Dawson Creek to Salmon Arm where she made many friends, became involved in the community and volunteered for several different organizations. She was a woman who had a sharp intellect, enjoyed life and had many interests.
Anne is survived by her partner of many years, Jim Linklater, her children, Bill (Christy) Henriksen, Kirstine (Glenn) Hill, and Ronald (Beverly) Henriksen and 6 grandchildren: Caitlin, Richard, Gunnar, Laura, Kelsey and Sydney. She will be missed by many.
There will be no service by request. If desired, donations may be made to the Shuswap Hospital Foundation, the Dawson Creek and District Hospital Foundation or the charity of one`s choice.