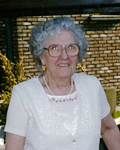 July 31, 1926 – November 9, 2013
at the age of 87 years
Graveside Service:  Saturday, November 16, 2013, 11:00 a.m., Mt. Ida Cemetery
Celebration of Life:  Saturday, November 16, 2013, 1:00 p.m., Fischer's Funeral Services
Rosa Magdalena Verhaeghe was born July 31, 1926 in Kortryk, Belgium, in her own bedroom in the house that she would live in for the next nineteen years of her life. Rosa's father Alphonse was a train engineer, and Rosa was very proud of this, and was very grateful that because of his important position, he was able to provide well for his family even through the war years, and Rosa never lost her love for the trains. Rosa's mother Alphonsina was a homemaker and I'm sure that is where Rosa learned to be an immaculate house keeper, and learned all her cooking skills. Who could forget the wonderful shortbread cookies, perfect buns and cinnamon buns, and that raisin bread, served with that amazing coffee and tea of course, and for the little ones, served in nothing less than the good china cups.
Rosa had an older sister Lucienne and her younger brother Eugene whom only lived to three weeks of age. Rosa had a life time friend named Helena and one of her fondest memories was of walking along the riverbank with Helena picking grass for the rabbit.
Growing up through the war years was a frightening and sad time. One night when during the air raids, the bridge close to Rosa's home was hit, and when the family felt it was safe to retire to their beds they found a pile of plaster where Rosa's father would have been sleeping. Rosa herself was very fortunate, as one night she was peeking out the window and her father told her to quit being so nosy just as she turned away a gunshot came through the window where she had been standing.
Rosa attended a Christian Catholic school where she learned Flemish French and English and in her words was forced to learn German while the Germans were occupying the area.  Also at this time most of the traditions and celebrations were not allowed like St. Nicholas Day and most especially Remembrance Day. This was also a time of curfews and no one was allowed out after a certain time, so dances were held from 4 to 9 and movies were out of the question for fear of missing curfew.  On March 17, 1945 Rosa met Jack Hyland a Canadian soldier at her Aunt's pub the soldiers frequented as Rosas uncle could speak fluent English. From then on Rosa and Jack corresponded with each other and became engaged in August of 1945 and were married on December 11, 1945, Jack returned to Canada in January of 1946.Rosa joined him in Canada in July of 1946 this must have been a very scary trip for a young woman alone coming to a Country where she really didn't speak the language well, having to figure out trains schedules and where she was going.  On July 27 she safely arrived in Swift Current, Sask. , there to greet her were Jack, his brother Jesse and Jesse's fianceé Tilleen, when the train arrived Jack went to one side and Jesse to the other and it was Jesse that Rosa first saw and recognized him  immediately from a picture she had seen.  If this trip wasn't overwhelming enough 2 days later Rosa was matron of honour at Jesse and Tilleen's wedding two people she didn't even know but grew to love very much and that love was definitely returned to her Rosa and Jack lived for the first while in Mantario, Sask., their room was divided by a curtain with Keith and Harvey sleeping on the other side. We also believe it was while living there with all those Hyland boys that Rosa learned how shall I say… her more colourful English words. One thing we know this is when Rosa became a full fledged member of the family
On May 14, 1947, it was the beginning of Rosa's own family, with the arrival of Bernice Rosa, in Dodsland, Sask., by 1948 they had moved to Darwell near Jesse Tilleen and baby Ray, where Mel was born on Sept 16 1948 in Edmonton They then moved on to Quesnel, BC where they were blessed with another boy Wilf on October 2, 1954 then onto Langley BC and the birth of baby Collette on September1 '1959. By 1964 the family had settled in Port Kells where they remained until 1976 at which time Rosas marriage had ended in divorce, and Rosa and Collette moved to Sliver Creek where Rosa and Mel had bought a little place, and where she was near to her daughter Bernice, and Rosa was so proud of her little home.
Rosa was a proud Canadian but her love for her home country never waned and in 1961 fifteen years after coming to Canada she was finally able to return to Belgium with baby Collette just 18 months old she was later joined by Jack and Wilf and Rosa's parents got to meet two of their grandchildren.
In 1968 Rosa and Jack went for another visit but this time was Rosa's father had passed.
In 1973 Rosa was able to go with Mel and proud to introduce him to her mama and family as her world champion cowboy son. She was able to go again in 1975 along with her was Collette and in 1978 on another visit was joined by Bernice and Coralie and her mother was finally able to have met all Rosa's children and one of her great grandchildren and were able to have a four generation photo taken.  Over the years Rosa also travelled to Australia Arizona and Oklahoma City
Rosa loved music and dancing, and had a great sense of humour who could forget her famous peter heaters and the panties with the legs sewn together.  Rosa was very artistic and loved to decorate for all special occasions such as Halloween Easter, St. Patrick's, Valentines and of course St Nicholas Day. Rosa was also very crafty and even though she could not read a crochet pattern, she was able to look at something and figure it out on her own and over the years has made some beautiful things.  Rosa was also very fashionable and even though she could not afford expensive clothes, she would add her own touches to an inexpensive piece of clothing, like lace or jewellery and be right in style. Rosa loved to give gifts and had to most amazing ability to find just the softest baby blankets for all the new babies, and I remember receiving lots of little "somethings" as she called them like little soaps or even a soft face cloth that she had found.
She was a very proud Grandma and was very pleased to become a young grandma at the age of thirty nine, her grandchildren have many fond memories of Grandma playing with them and she would really play with them one favourite was playing grocery store with a real cash register and little containers that Grandma saved to restock the shelves.
Of course there were still rules at Grandmas like don't plop on the couch and do not put your feet on the coffee table or lean back on her good chairs and always use a coaster, but it was really the little touches that mean so much like the little goodies such as strawberry candies, and lemon drops and even that Grandma would bring food and drink out to the hay field and tell them it was time to have a break. Some of her sayings will always stick with us like I have to make a piddle and I love you 2 and a half cents worth and that's a lot of money.  And we all loved when she would speak to her beloved dogs in Flemish and they would actually seem to understand. Rosa also liked to dress up for Halloween and most especially St Nicholas day a tradition from her homeland that her family still continues today. Rosa was a great story teller and even after the dementia had started to set in her children knew with one sentence blurted out what time in her life she was thinking of.
Rosa loved people and people loved Rosa and she was known to many as Mama Rosa Grandma Rosa and to all of us nieces and nephews Aunty Rosa, and of course we cant forget about her cowboys who were always graciously welcomed to her home fed and given a bed, and I know that they loved and respected her for that.
For the past nine years Rosa has lived in Bastion nursing home where she has received very good care under the watchful eye of her family, and even though a lot of the old Rosa had disappeared but occasionally she still had a smile or a twinkle in her eye for somebody she recognized.
I was told personally by Aunty Rosa that she did not know how she would have made it without her sons Mel and Wilf and her beloved daughters Bernice and Collette, and of course George whom she told me could be a silly bugger but he's a good man whom she loved very much. And how proud of her grandchildren and great grandchildren and how she tried her hardest to keep contact with her other five grandchildren that didn't live close but she wanted them to know that they were loved and thought of just as much as the ones near by. Rosa was predeceased by her daughter Bernice and her grandson in law Derek and because of her strong faith and her belief in the power of prayer and the resurrection her family and I believe that she is with them in heaven. I hope that I have said all that should be said it hard to put a lifetime of memories into a few words, for now Mama, Grandma, Great Grandma and Aunty Rosa we wish you a fond farewell and know you will be there to great us on the other side till then we love you and have no doubt that you loved us back.