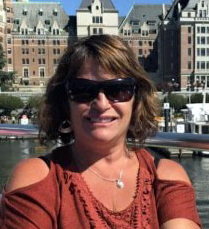 June 29, 1966 – December 11, 2018
at the age of 52 years
A celebration of life will be held at the Sicamous Bible Church at 1:00pm, Saturday, December 22 (326 Kappel Street, Sicamous, BC) with a tea to follow at 3:00pm at the Red Barn (1226 Riverside Avenue, Sicamous, BC)
It is with great sadness the family of Yvonne Johnson announces her sudden passing on December 11, 2018. Yvonne was a loving incredible wife to Jeff Johnson and was a loving mother to Kayla (Phil), Krystal (Danny), Cole (Jesslou) and Ed.
She is survived by her six grandchildren Cidney, Sunny, King, Kohen, Payten and Ryder, her siblings Terry Lynn, Donna, Patrick, half-brother Austin, Jeff's parents Ike and Florence Johnson, her step dad Sid McLean, step mother Bertha Gear, as well as many nieces and nephews. She is predeceased by her mother Margaret McLean, father Percy Gear and step father Bill Lim.
A celebration of life will be held at the Sicamous Bible Church at 1:00pm, Saturday, December 22 with a tea to follow at 3:00pm at the Red Barn.