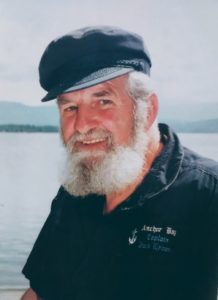 July 12, 1929 – May 18, 2018
at the age of 88 years
Left to Navigate a New World-May 18, 2018
All are welcome to attend the Service and Celebration of Jack's Life, to be held on Saturday, July 7, 2018 at 2:00 pm at Celista Community Hall, 5456 Squilax-Anglemont Road, Celista, BC
It is with great sadness and heavy hearts that we announce the passing of Jack Lebans on May 18, 2018 at the Royal Inland Hospital in Kamloops. Jack was surrounded by his family when he left us. Jack is survived by his loving wife Jeannine married October 21, 1950, his daughter Jean Ann (Gordon), grandchildren Marina (Kyle), Julie Ann, Jordan, his son Nat, grandchildren Toryn (Ashley) Bryden, Savanna (Dustin), his daughter Jackie, and his daughter Melanie (Brian), grandchildren Crystal (Dave), Derek, Michelle, and great grandchildren, Jenna, Trenton, Jared and Cassandra(Tanner), his brother Bruce (Sonja), and two sisters Laurel and Doris, his many nieces and nephews, and the many family friends who are considered family. Jack taught his children how to love, and be loved, the importance of family, honor, respect and truth. Words can not express how much we will miss you.
Jack was born in High Prairie Alberta On Friday, 12th of July 1929 to Catherine Arabella and Nathaniel Lebans, he was the second youngest of 7 children. His brothers and sisters were Ralph, Donald, Margaret, Laurel, Doris and Bruce. Jack was a lucky man, he had a great family, and they were great role models for love and family connection.
Jack had a long and remarkable career which started in the Marine industry. He started as many do, as deckhand/mate, but it was not long before he was Captain. He worked and lived for a short time in the 1950's in the Buckley Valley as a Miner and Logger and carried with him had a deep appreciation for the forest. He returned to the coast in the mid 1950's and returned to the Marine Industry as Tug Boat Skipper. Driven by his belief of fairness to all, during his work career he started his involvement with the union. He was an Active Union member of the Merchants Guild and loved contract negotiations. He had many great stories around the adventures of good negotiations with many of the Marine Companies in BC. Dad moved onto the Pacific Pilotage Authority and Captained their Pilotage boats until retirement in 1994.
Jack believed in our political system and was involved in Politics and a member of the NDP party and President of the Coquitlam Chapter in the 80's. He believed that if you wanted to see change, get involved and be part of the solution for change.
Jack and Jean moved from Coquitlam to the North Shuswap in the late 80's and started their very rich life on Shuswap lake. Jack and Jean have made many close friendships with the people of Shuswap and became involved in the community around him. Jack and Jean are members of St. David's by the Lake and Jack loved his church family. During his community involvement, Jack was appointed a member of the Board of Management of the Chase and District Diagnostic and Treatment Centre. He had a short acting career as a miner or retired farmer in the CBC Special "Eye of the Cowboy".
One of Jack's greatest joy was his role as Santa. Jack and Jeannine were honored when they were asked to Volunteer as Mr. and Mrs. Clause. Jack loved to share his rich stories about his experiences with kids and what they would ask for from Santa, they made him laugh, one of those deep belly laughs. It was hard for Jack to pass the sleigh and reindeer onto another Santa when his health declined.
Jack was a devoted family man; a loving husband, an amazing dad, a great brother, a wonderful Uncle, an incredible Grandpa, an unbelievable Great Grandpa, an awesome friend, a helping hand neighbour, a respected work friend, and a great model of giving to our community. He will be remembered for a great sense of humour, his love of life, his big smile, his love of telling stories, the crib and Skipbo games, and getting into a great debate on politics with anyone that was game to debate, opposition or not, of course over a glass of Scotch, Beer or Wine.
The family would like to thank the nurses and Doctors at Kamloops Inland Hospital, and the Salmon Arm Funeral home for their excellent care of Jack and their support of his family and friends.
All are welcome to attend the Service and Celebration of Jack's Life, to be held on Saturday, July 7, 2018 at 2:00 pm at Celista Community Hall 5456 Squilax-Anglemont Road, Celista, BC. Should you choose, in lieu of flowers please donate in honor of Jack to the charity of your choice, the one's that have helped Jack and his family are the Heart and Stroke, Muscular Dystrophy and the Cancer Society.
"God saw you getting tired and a cure was not to be. So He put his arms around you and whispered, "Come to Me". A golden heart stopped beating, hard working hands at rest. God broke our hearts to prove to us. He only takes the best".