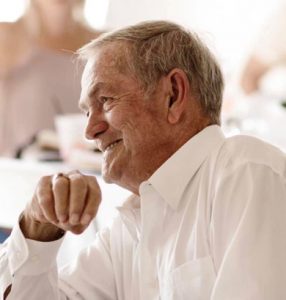 February 16, 1941 – February 3, 2019
at the age of 77 years
A Celebration of Life for Wally Martz and Eric Butler will be held on Friday, April 26, 2019, 3:00 pm, Shuswap Lake Estates Golf Course
Wally C Martz, 77, of Blind Bay, BC died Sunday, February 3, 2019 (Super Bowl Sunday) in the home he loved on the 11th green of Shuswap Lake Estates. In early January 2019 Wally was diagnosed with Stage 4 lung cancer.
Wally was born February 16, 1941 in Fargo, North Dakota. He was adopted at age 2 by his parents Walter and Edline Martz. He grew up in Rolla, ND where he graduated from high school. He attended the University of North Dakota where he earned a Bachelor's degree in Business Administration and Marketing. In June, 1962 Wally was united in marriage to Sandra Anderson. He served in the US Army (1964-67), including 1 year active duty as a helicopter pilot in Vietnam. Wally was awarded a Bronze Star, 2 Army Air Medals for valour with 13 additional Oak Leaf Clusters and 2 Distinguished Flying Crosses for his heroism in battle. Captain Martz went on to pilot for the ND Air National Guard before retiring from duty in 1976.
After his return from Vietnam in 1967, Wally lived in Grand Forks, where he worked as a banker at Red River National Bank and continued coursework towards a Masters Degree at UND. In 1972, Wally relocated to Mayville, ND where he continued to advance his banking career at the Goose River Bank. Wally and Sandy raised their 5 children in Mayville, ND.
Wally was active in business and community enrichment, as well as a member of the local Veterans of Foreign Wars.
Upon his retirement, he relocated to British Columbia where he married the love of his life Patricia Miller in July of 2004. Wally and Pat enjoyed travelling the world with friends, spending their winters in Puerta Vallarta and living the life he loved on the golf course in Blind Bay.
Wally is survived by his loving wife, Patricia Martz; mother-in-law, Mary Miller; his children, Kristin (Bret) Vie, Kathlyn (Mike) Rexine, Eric (Miranda) Martz, Aron (Jerri) Martz, Kadra Martz; sixteen grandchildren and two great grandchildren.
He was preceded in death by his parents, Walter and Edline; father-in-law Bill Miller; his brother Jerald Martz and sister-in-law Ann Miller.
The family would like to thank everyone who contributed to ensuring that Wally's cancer journey was as painless as possible. Our journey started in PV, Mexico, then Vancouver and finally home to Blind Bay. Along the way there were so many people who helped and guided us through the maze – far too many to identify individually. You all have our undying gratitude.
Please celebrate Wally's life through acts of kindness and the little things in life that make you smile. Oh and maybe a rum and coke (7-Up) to toast a life well lived.
A Celebration of Life will be held at a later date.