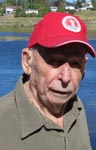 November 22, 1924 – March 7, 2015
at the age of 90 years
It is with profound and deep sorrow that we mark the passing of Peter H. Mielke on March 7th, 2015 at age 90.
Peter was born in Herbert, Saskatchewan.  Peter was an avid golfer, a veteran, and enjoyed meeting people and entertaining them with stories of his life. 
During many of the last 20 years, Peter lived in Logan Lake enjoying his retirement.  Peter is survived by his wife, Alice, son, William and daughter in law, Sheila. A celebration of life will be held in May to accommodate his friends from Vancouver area.  Details will be announced closer to that date via email and social media.   We would like to express our thanks to the staff of the Gemstone retirement residence, and the staff of RIH.   In lieu of flowers, donations may be made to the Heart and Stroke foundation.