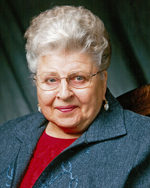 October 31, 1931 – March 29, 2017
at the age of 85 years
A funeral service will be held on Friday, April 7th at 1:30 pm at Broadview Evangelical Free Church, 350 30th St. N.E., Salmon Arm.
A funeral service will be held1:30 pm Friday, April 7, 2017 at Broadview Evangelical Free Church, 350- 30th St. NE Salmon Arm,BC.
Passing away on March 29, 2017 at the age of 85, Jean leaves behind Son, Howard Miller (Juanita); Daughter, Laurel Quelch; Grandchildren, Corey Miller; Krista (Dustin) Cal; Alexander (Anneke) Quelch; Nicholas (Rebecca) Quelch; Great Grandchildren, Dyson Cal, Daxton Cal; Baiet Quelch; Step Grandchildren, Michael House, Connie House; Step Great Grandchildren, Ambre House, Morgan House; Sisters, Grace Snipstead; Verneal (Don) Kallevig; Lillian (Rod) Larson; Sister-in-law, Marilyn (Knut) Skarstol and several nieces and nephews.
Born October 31, 1931 to parents Nels and Sophia Grue. Jean was raised in Armena, Alberta and attended Camrose Lutheran College and Camrose Lutheran Bible Institute.
Jean grew up working hard on the farm alongside her dad, milking cows and haying. In 1946 Jean met the love of her life, Don Miller, from Hay Lakes, Alberta, marrying in 1951. They were together for 57 years until Don passed away in 2009.
Throughout their lives, Don and Jean lived in Camrose, Edmonton, Calgary, Sherwood Park, Coquitlam and Burnaby. In 1993, they retired to their home on the Sunny Shuswap Lake. 10 years later they moved into Salmon Arm.
Jean lived a busy life taking care of home and family while Don was away on the road.
Over the years, Jean held many jobs working for Avon, Merry Mart, Woodward's, Tupperware and various Grocery Stores demonstrating grocery items. She even worked for Askew's here in Salmon Arm. She also was a care aid at Normana Care home. Jean volunteered for Pioneer Girls and was President for Christian Women's Club.
Jean was raised in a very musical family and loved to sing in the choir. She enjoyed camping, boating, and gardening where her yard was always filled with beautiful flowers, fruits and vegetables. Don and her went on many trips in their 30 ft. Revcon motorhome. She was involved with Sons of Norway, the RV Club, Sunnybrae Seniors and her Church Seniors Group.
Jean will be remembered for her loving relationship with her husband, Don; her devotion to her family and her strong faith.
A special thanks to the medical and care providers at Piccadilly Care Home.