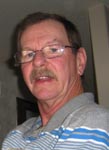 February 21, 1950 – October 10, 2015
at the age of 65 years
Please join his family in a celebration of his life at 3:00 pm at the Cedar Heights Hall at 2316 Lakeview Drive in Blind Bay, BC, on Saturday, October 24, 2015.
Joseph Murphy passed away peacefully at his home in Blind Bay on Saturday, October 10, 2015 at the age of 65.
Joe is lovingly remembered by his wife Laura, sister Sharon, children, grandchildren, family and friends.
Joe is predeceased by his parents Joseph and Marion Murphy, and his sister, Rita.
Joseph A. Murphy was born in Vancouver, BC in 1950. He spent 35 years working as a Locomotive Engineer for CP Rail and will be missed by many. Joe retired at 55 and loved spending time with his family and friends. He enjoyed a good game of golf and fishing with his friends on the lake.
Joe was a loving, joyful, simple and happy man. He loved people and touched many lives along his journey in life. The family of Joe Murphy would like to thank all the wonderful services and individuals that helped care for him and keep him comfortable throughout his last days.