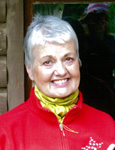 April 29, 1949 – June 23, 2016
at the age of 67 years
A positive bible based discourse will be held and the Kingdom Hall in Salmon Arm at 2:00 p.m., July 2, 2016.  Song 130, A gift so rare.
Randi Kathleen Paul (nee Richmond) was born April 29, 1949 in Auburn, CA.  As a child she explored the woods and fields with her constant companions and caretakers-her dad's hunting dogs.  A devoted nature lover she longed for a greater understanding of creation.
Upon graduation from high school in 1967, Randi headed for the Canadian North to experience true wilderness.  Randi met her husband Siegfried and they started their life together in a log cabin at Moberly Lake, BC.  There she came to know the native peoples of the area and to value their life of simplicity.  There too, she learned of the Bible's promise for meek ones who would inherit the earth Mt 5:5.
Her two daughters, Tamara Paul and Rebecca Raabe were brought up on a 640 acre ranch near Dawson Creek.  The family raised horses, cows, sheep and stock dogs. The girls learned to ride, drive the tractor and feed livestock.  Barn cleaning and weeding the huge garden taught them how to work hard and take on any task.
Her grandchildren Kyle Bagu, Colton Brady and Nadia Brady were Randi's greatest joy and dearest friends.
Randi was a faithful Witness of Jehovah for 35 years and is forever grateful for the knock on her door that brought her to knowledge of her God, his name and his purposes   Rev. 21: 1-5.
The family wishes to express their gratitude and appreciation to the Shuswap Lake General Hospital staff, as well as Dr. Roberto Leon, Dr. Susan Ellar, Dr. Dougherty of Kelowna Cancer Clinic, Dr. Plessis and Bastion Place staff for their care and kindness.  Also, the family was greatly comforted by the many loving and concerned friends who gave of their time and energy to support and console during her long ordeal with cancer.