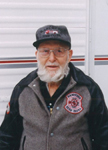 February 8, 1924 – September 23, 2012
at the age of 88 years
Don passed away peacefully in Shuswap Lake General Hospital on Sunday, September 23, 2012 at the age of 88 years.  He was born to Grant and May Paulsen at home on the family farm at Asker, AB on February 8, 1924.
He is survived by his loving wife Anne, daughters Ginny-Lou (Jack) Alexander and Fran Porteous, sons Russ (Lotty) Paulsen and Mark (Berna) Daniel, grandchildren Heather (David) Robinson, Tricia Davis, Rob (Carol-Lyn) Davis, Anita Paulsen, Ben Paulsen and Jennifer Paulsen as well as two great grandsons.
Don has worked at several occupations during his life including farming, sawmilling, store keeping and owner-operator of a machine shop.  He spent several years as a fireman with the Ranchero Deep Creek Volunteer Fire Department.
A celebration of life will be held inAlberta, near Don's birthplace, in the spring of 2013.