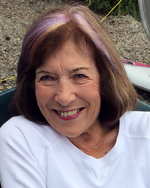 July 05, 1934 – March 19, 2017
at the age of 82 years
A Celebration of Life will be held at 2 pm on June 24th at the Eagle Bay Community Church with interment to follow.
Suddenly, on March 19, 2017, we lost our beloved Mom, Marilyn Gloria Rowswell (Stewart) of Eagle Bay, BC at the age of 82 years.
"Lynn" was born in Winnipeg, MB where she grew up and attended college to become a nurse. She worked as an airline stewardess before marrying Bud Rowswell in 1958. Lynn worked as an R.N. briefly before becoming a homemaker to raise four children with her husband Bud. They moved several times over the course of his career and Lynn always bloomed where she was planted.
Lynn was a committed member of the community who loved people. She volunteered at the Salmon Arm Recreation Centre for many years and prided herself on staying fit and active.Lynn is survived by her daughter Darcy Sims, son Doug Rowswell, daughter Tracey Rowswell, son Dale Rowswell, eleven grandchildren and four great grandchildren.
She was predeceased by her husband Bud and several furry children.
Memorial gifts in lieu of flowers may be made to the BC SPCA, 5850 Auto Road SE, Salmon Arm, BC, V1E 2X2.