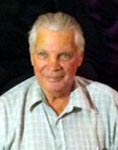 October 13, 1940 – February 16, 2015
at the age of 74 years
Celebration of Life:  July 11, 2015, 1:00 – 4:00, family member residence, please contact Stacey at sannb29@gmail.com to confirm attendance
Wilf passed away on February 16, 2015 at Royal Inland Hospital, Kamloops at the age of 74 years.
He was predeceased by his Parents, Nick and Gladys Shellop, brother Edward and sister Linda Zolkavich
He will be sadly missed by his daughter Stacey (Brian) Brook and their son Bradley, daughter Jenna and their dog Taffey – Grandpa's furry friend, "the crumb catching buddy", his son Scott (Mandy) Shellop, Scott's daughter Shantel and Mandy's son Ty, his first wife Barb Shellop, mother of Stacey and Scott as well as three sisters Rose, Charlotte and Beverly.
Wilf was a Saskatchewan born farmer and was the eldest out of 6 children. He left the farm as soon as he could, and moved between Alberta and BC, living in Salmon Arm until his passing. He was an appliance man most of his life and owned Active Appliance in Calgary moving to Salmon Arm and renamed the company Shuswap Appliance.
He thoroughly enjoyed his Timmies hot chocolate and apple fritters daily! He also enjoyed walking, often up to several 100 blocks weekly…..and would often be found at his local bar in Langley (lived there for 12 years), and lately at Setters Pub in Salmon Arm. He was often lucky on his Keno tickets as well, and that always made him smile. He was an avid camper and fisherman and loved to show the ladies his two step dance moves. I always knew when he had a bit too much booze, as he would often call all us girls 'love'.
Thanks to Dr. Azad, the vascular surgeon, nurses and OR staff as well as all ICU staff at Royal Inland Hospital Kamloops. We thank Tammy and Vince Fischer for all their guidance. Thank you to all his family and friends, who helped us and continue to be caring thru this sad time.
As requested by Wilf, there be no funeral, but we will be hosting a celebration of life gathering for family and friends sometime July 2015 hosted by Stacey and Brian.