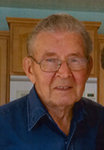 May 23, 1927 – December 3, 2015
at the age of 88 years
We sadly announce the passing of Erick Olaf Sundmark in Shuswap Lake General Hospital, Salmon Arm, Thursday December 3, 2015 at the age of 88 years.  
Erick was born in Carlin, B.C. May 23, 1927. He lived in the Salmon Arm area his entire life and went to school in Canoe. Erick, with his father and brother Carl started the business 'Sundmark and Sons' logging on Larch Hill. Then he went to Red Deer for one year to build homes for returning servicemen. When he returned he started as sawyer at the Federated Co-Op Mill in Canoe. He worked there for 41years until his retirement. Erick married Kathleen Raven in 1948. They had three children, David [deceased] [Audrey], Larry, Cathy [Richard]. He had seven grandchildren and seven great grandchildren. Erick was a hard worker and had a passion for running [9km a day], hunting, fishing and camping. He was very social and liked by everyone. He belonged to the Fish and Game Club and Wilderness Watch for many years. He was also a member of the I.W.A. for over 40 years.
He is predeceased by his wife Kathleen Sundmark, parents Olaf and Senia Sundmark, brother Everet, and sisters Elsie and Evelyn. He leaves his loving partner Vivian, brother Carl [Ann] and sister Selma [Dick] and numerous nieces and nephews. 
By request an informal remembrance will be held at a later date. Erick will be interred at Mt. Ida Cemetery. In lieu of flowers donations may be made to the S.P.C.A. or the Heart and Stroke Foundation.