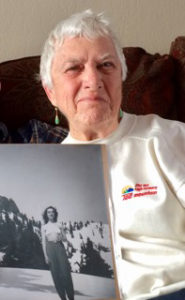 January 15, 1930 – October 14, 2017
at the age of 87 years
Cherished wife of Ron, beloved mother of Denise, Michelle, and Paul, and adored grandmother of Alicia, passed away peacefully on October 14, 2017, in Salmon Arm, BC. She lived a long life, filled with love of family and many lifelong close friends, and many adventures and fun times: Skiing on the North Shore mountains, fishing trips into remote corners of BC, water skiing and boating on Shuswap Lake, fall camping trips with Ron, often to the farm in Alberta, and countless grand parties and good laughs with "the gang" – mom always remembered and was grateful for all the good times and good friends in her life. She was warm, gentle, compassionate, and laughed easily. We delighted in making mom laugh til she cried, which was not difficult.
Mom was born Milcia Yasenchuk, in Smoky Lake, AB, the youngest of Joseph and Sophie Yasenchuk's four children. She spent her early childhood in nearby Bellis, before her father moved the family to Vancouver in 1937. Mom was living on Capitol Hill in Burnaby and just starting school when she first met Allie, her lifelong and closest friend.
The girls were still in high school when they embarked on the grand adventure of making their way across Burrard Inlet (sometimes by ferry) and up into the North Shore mountains (by trolly car or bus, followed by a long hike) to learn to ski. It was on a trip up Mt. Seymour that Min first met Ron. He was building a cabin with a group of the guys. The guys had a "no girls" pact, to avoid distractions from the serious work of cabin building, but Mom volunteered to chink log walls for Ron, and the rest is history… they celebrated their 67th wedding anniversary this past September 16th. They went on to build another two houses together, first in Lynn Valley, where they lived for almost 40 years and raised their family. Later, they built their retirement dream home at Blind Bay, where they have lived since 1991.
Mom is forever remembered by husband Ron and her three children, Denise, Michelle (Rob) Allan, and Paul (Suzanne); granddaughter Alicia Norman; and dear friends Allie Johnstone, Harold Enqvist, and Jill Guerin. She also leaves several nieces and nephews. She is pre-deceased by her parents, sister Alice (Clark), brothers Walter and Merle, and many, if not most, of her long time friends.
No service, but family and friends will be advised of plans for a small celebration of life in the spring. The family gratefully declines flowers; for anyone so inclined, we suggest donations to the Alzheimer's Society, Shuswap Lake Hospital Foundation, or the animal welfare charity of your choice.
Success
To laugh often and much; to win the respect of intelligent people and affection of children; to earn the appreciation of honest critics and endure the betrayal of false friends; to appreciate beauty, to find the best in others; to leave the world a bit better, whether by a healthy child, a garden patch or a redeemed social condition; to know even one life has breathed easier because you have lived. This is to have succeeded.
— Ralph Waldo Emerson