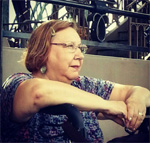 November 4, 1947 – June 24, 2016
at the age of 68 years
The memorial service will be held at 2:00 pm on July 9, 2016 at The Kingdom Hall of Jehovah's Witnesses at 721 – 2nd Street SE Salmon Arm, BC followed with refreshments. 
Donna Mae Wyllychuk, age 68, of Salmon Arm, BC, passed away on June 24th, 2016.
Donna was born in Vancouver, BC on November 4th 1947. She symbolized her dedication to Jehovah God by water baptism in1963.
Donna was married to Vince Wyllychuk on November 29, 1968; they were married for 47.5 years.
Donna is affectionately remembered by her husband, Vince Wyllychuk, her sister Marny Schaible, her daughters Teresa Golat (Tom) and Nicole Onci (Anthony), her granddaughters Brandi, Natasha and Tabitha Golat, Alana Schmitt, Rebecca  and Alexis Golat and Jenna Flaviani, her mother in law, Anne Wyllychuck as well as other family and many friends.
Donna had a firm belief in the resurrection to paradise on earth. She was comforted by Revelation 21: 4, "And he will wipe out every tear from their eyes, and death will be no more, neither will mourning nor outcry nor pain be anymore. The former things have passed away."
The family wishes to thank The Congregation of Jehovah's Witnesses for their loyal love and friendship, their many supportive friends, Dr. Bratty and Dr McDonald, Salmon Arm Hospice and the Salmon Arm Hospital for their kindness, and Fischer's Funeral Services for their help.